Dark and Stormy – Cocktail of the Month
Are you ready to explore the dark side of the cocktail world? Look no further than the aptly named Dark and Stormy cocktail! This cocktail will transport you to a stormy evening on the high seas, battling waves and wind. Or, more realistically, it will transport you to your couch, where you can enjoy this delicious drink without the risk of getting seasick.
The Dark and Stormy cocktail is a classic cocktail that has been around for over a century. It originated in Bermuda, where it was first created to provide relief from the sweltering heat. But don't let the origins fool you – this cocktail is no light and breezy summer sipper. No, the Dark and Stormy is a serious drink for serious cocktail lovers.
A Dark and Stormy History
Legend has it that the Dark and Stormy cocktail was created by British sailors in Bermuda. The sailors would mix dark rum with ginger beer and lime, and the resulting drink was named after the ominous clouds that would gather on the horizon during stormy weather. The cocktail became so popular in Bermuda that Gosling's Rum trademarked the name in 1988.
The Recipe
Now that you know the history behind this iconic cocktail, it's time to make one for yourself! Here's the recipe: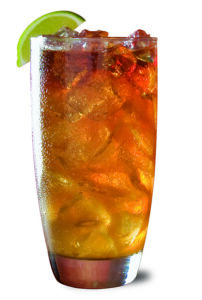 2 oz dark rum
3-4 oz ginger beer
1/2 oz fresh lime juice
Lime wedge, for garnish
Fill a highball glass with ice.
Add the rum and lime juice to the glass.
Top with ginger beer and stir gently.
Garnish with a lime wedge.
So, there you have it – the history and recipe for the Dark and Stormy cocktail. Whether you're battling the high seas or just trying to survive a stormy night in, this cocktail is sure to lift your spirits. Just remember to drink responsibly, or you might end up feeling like you're battling a stormy hangover the next day.
Now, if you'll excuse me, I think it's time for us to go mix up another Dark and Stormy. Cheers!