Whiskey Sour – Cocktail of the Month
The Whiskey Sour is a one-liquor cocktail and is made with 1.5 ounces of bourbon, lemon juice, and simple syrup. Add it to a shaker with some ice and garnish with a cherry. Feeling particularly manly? Leave out the cherry and amp up the bourbon content. Serve it on the rocks.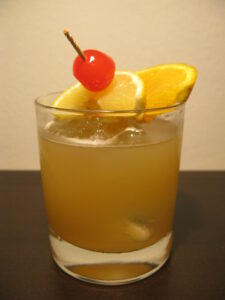 Traditional Whiskey Sour Recipe
2 oz blended whiskey
1.5 lemons (juiced)
½ sliced lemon
½ tsp of powdered sugar
1 cherry
Shake the whiskey, lemon juice and powdered sugar with ice and strain into a whiskey sour glass. Decorate with the half slice of lemon, top with the cherry, and serve.