Old Fashioned – Cocktail of the Month
As cocktails go, the Old Fashioned never gets old. Considered a bar classic standard, the Old Fashioned is a typical go-to cocktail for many. And although there are many variations of this classic cocktail, there is still what is considered to be the quintessential Old Fashioned recipe.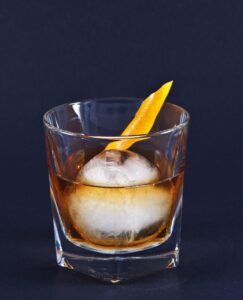 What Makes a Good Old Fashioned
Whiskey: Both rye and bourbon offer different flavor profiles. Bourbon is slightly sweeter and rounder, whereas rye introduces a peppery bite. Either way, you'll want something high in proof (over 100) as this extra alcohol will stand up to the dilution from melting ice. Try: Knob Creek, W.L. Weller Antique, Booker's, Old Grand-Dad, Baker's, Wild Turkey 101, Wild Turkey Rare Breed or Rittenhouse.
Glass: The old fashioned is one of the few drinks that has a glass named in its honor. The ideal Old Fashioned glass should be between 8 to 10 oz, with a thick heavy bottom.
Ice: This is a sipping cocktail that shouldn't be allowed to turn into a watery mess. Avoid small cubes or invest in an ice sphere.
Sweetener: Often up for debate, simple syrup works well, but other options include honey, maple syrup or agave nectar. But, make sure to dilute these with equal parts water.
Bitters: Although there are dozens of new bitters on the market, the best is still the most common: Angostura. Two dashes will do the trick.
Technique: The classic Old Fashioned is made by stirring the drink with ice for about 20 to 30 seconds and then straining that mix over fresh ice.
Garnish: Orange twist, lemon twist or both.
INGREDIENTS
Serving: 1
2 ounces rye or bourbon
1 sugar cube (see Editor's Note below)
2-3 dashes Angostura bitters
splash warm water (if using sugar cube or sugar)
Garnish: orange peel
DIRECTIONS
In a double rocks glass, muddle the sugar cube or sugar with Angostura bitters and a small splash of warm water until dissolved.
If using simple syrup, swirl with bitters in a double rocks glass.
Add whiskey and ice (preferably an oversized cube or sphere) and stir well.
Garnish with an orange peel.